Strength and Stability

Rest assured we will be here for you when you need us the most
Highly-Rated & Highly Regarded

We are one of a select group of Florida insurers that holds a B++ (Good) Financial Strength Rating from AM Best Company. We also have an A, Exceptional rating from Demotech, Inc. We are among the highest financially-rated Florida homeowners insurance companies.


AM Best

AM Best has more than 100 years of experience and is the most established organization devoted to issuing in-depth reports and Financial Strength Ratings for insurance companies. Their Financial Strength Rating is an independent opinion based on a comprehensive evaluation of our financial strength and ability to meet claims paying obligations to you. We are proud to hold this Secure rating, so that our customers can rest easy knowing they will be taken care of.
→ Learn more about our AM Best rating


Demotech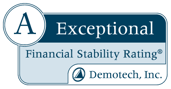 Demotech's A, Exceptional Financial Stability Rating® relates to maintaining an unsurpassed financial ability, regardless of the severity of a general economic downturn or deterioration in the insurance cycle.
Demotech is a financial analysis firm serving the insurance industry since 1985, providing its Financial Stability Ratings to property & casualty and title insurance companies.

→ Learn more about our Demotech rating


Better Business Bureau

In addition to our strong financial ratings, Florida Family Insurance holds an A+ rating and is accredited by the Better Business Bureau. As an Accredited Business, Florida Family has agreed to abide by the BBB Code of Business Practices, which represents sound advertising, selling and customer service.
We are Soundly Reinsured
The first thing you want to know in the event of a catastrophe is that your insurance company will be there for you. With Florida Family, you don't have to worry; we are always prepared when you need us the most. We're dedicated to protecting you from the winds, storms, and hurricanes that are inevitable in our unique part of the world.
We carry insurance coverage of our own, which is known in the industry as "reinsurance", making sure we can protect your assets, storm after storm. As a matter of fact, we are covered for six major storms a year—far exceeding the level most Florida companies carry. Just another proven way that Florida Family has prepared for the safety and stability of our policyholder's investments.


The Importance of Reinsurance
Proper catastrophe management is our foundation. Our company's stability is built on the reinsurance program we have placed with well-capitalized, A-rated international reinsurance companies.
We have a strongly-capitalized, well-diversified and highly-rated group of reinsurers who have supported us for many years. These longstanding relationships are evidenced by our high standing in the Florida homeowners insurance marketplace and our ability to be there for our customers for many years to come.
Additionally, we continually evaluate our reinsurance needs using a combination of advanced computer modeling tools and experience gained during the historic 2004 and 2005 hurricane seasons—the worst hurricane seasons on record in Florida in terms of frequency and cost.
We are Conservatively Invested

At Florida Family, conservative investing means your home is safe with us—year in and year out.
We operate with strict investment guidelines and our investments are safe and conservative.